Coaching
Last Updated on Monday, 17 April 2017 04:41
Written by deborah
Tuesday, 4 January 2011 02:05

---
Life Coaching through Women's Empowerment Workshop
Susie Kincade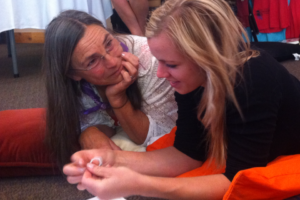 , Women's Empowerment Workshop founder, has been coaching athletes since her teen years. Later she moved into teaching, spiritual coaching, life coaching and mentoring. A certified nature-based coach, Susie continues to pursue all aspects of growing her consciousness and coaching skills. Earth-based and earth-centered, her coaching approach continually grows the mind-body-spirit connection through deeply connecting to the natural world, its lessons and its power.
Navigating Your River of Life
A one-day coaching workshop and river  wisdom adventure!
Join Women's Empowerment Workshop founder, Susie Kincade and
Colorado's premier rafting outfitter, Timberline Tours,  on a Colorado River  adventure for personal growth.
With Susie's expert guidance, you'll explore the river's natural wisdom and learn how to apply it to your life. Deepen your inner wisdom while experiencing beauty, peace, and whitewater thrills. Learn to:
• Let go, let flow
• Magic of self-care
• Navigate transitions
• Cross thresholds in life
• Scout rapids in your life
• Gain Confidence, Resiliency, Empowerment
Your river day includes:
• Professional Timberline Tours river guide
• Professional nature-based life coaching from Susie Kincade
• Transport to/from the river from your lodging
• All boating and safety equipment, and lunch

• Five hours on the river, including stops to swim, rest, enjoy the beautiful Colorado River
This experience is recommended for anyone over 12 years old.
Gather friends, family, or join an existing group.
Book your river wisdom adventure TODAY!
Cost: $175
www.timberlinetours.com | 970-476-1414
Add a creekside tipi camping experience either before or after rafting. Call Susie to create a beautiful extended stay adventure for you, your family, or group as guests on her private ranch!
970-328-5472
Ceremony and Ritual
What's your current transition – marriage, divorce, menses/menopause, empty nest, birth, death, graduation?  
Transitions are part of life and can be celebrated or made smoother by sacred ceremony and ritual. Often in our busy Western culture there aren't enough rituals to acknowledge the transitions in our life. Two of the most common are to hand a child car keys to mark their 16th birthday, and, when turning 21 drink volumes of liquor. What if we marked these and other transitions in a deeper, more meaningful way? As a trained ceremonialist, WEW founder and Life Coach Susie Kincade can help you and your family discover the fullness and inspiration of adding ritual to your life through daily practice or specific threshold crossings or rites of passage. Susie will consult with you and create transformational experiences that heal, celebrate, or move you forward on your path. Whether in a private, family, or semi-private setting, Susie will customize a memorable ceremony that serves for a lifetime.  No matter what transition you're experiencing, Susie's gentle, deeply connected and sacred approach will help you experience the fullness of life and possibilities ahead.
Create Your Own Personalized Retreat, Coaching experience, or Ceremony. 
Arrange a Free Consult Today!
If you are interested in coaching, a personal, family or small group ritual or threshold crossing, and/or mentoring, please contact Susie  for a free consult, susie@womenempower.us; 970.328.5472.
Receive info about our free webinars, speaker interviews and special event invites.

By Susie Kincade, May 1, 2017 Watching nature transition to spring here in Colorado's Rocky...
more»
by Susie Kincade, March 1, 2017 It is said that great beauty comes from great pain. It's...
more»
INTENTION +  ATTENTION = NO TENSION! Susie Kincade, Dec. 28, 2016 It's that fabulous time...
more»